Are you looking for something special for Christmas dinner? Try these aubergine and cheese tartlets with caramelised onions - unfortunately this recipe is only possible with the TM6 in connection with Cookidoo ( because of high temperature function).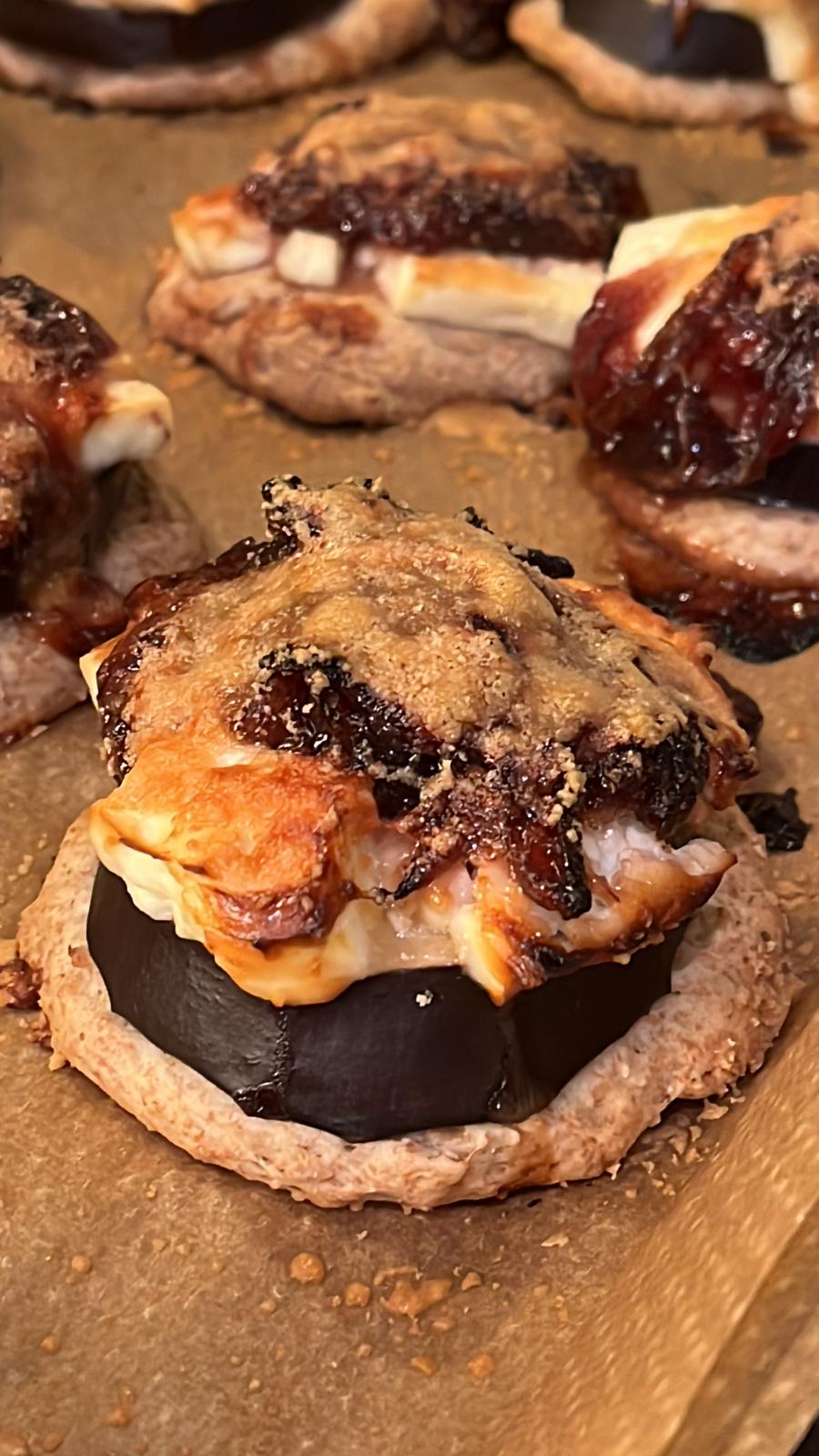 Ingredients
50 g cheese, in pieces (e.g. Manchego or Parmesan)

100 g spelt

2 - 3 stalks of rosemary, plucked

200 g spelt flour type 630 and some more to work with

150 g water

½ cube yeast (20 g)

50 g olive oil

2 tsp salt

1 pinch of sugar

80 g brown sugar

or 80 g sugar

½ red chilli pepper, fresh, seeded if necessary

400 g red onions, chopped

1 aubergine, large

40 g red wine vinegar

1 goat's cheese roll, in 12 slices
PREPARATION
1. Add the cheese to the mixing bowl, grind for 8 sec./speed 10 and transfer.
2. Add the spelt and rosemary to the mixing bowl, grind for 30 sec./speed 10 and push down with the spatula.
3. Add the spelt flour, water, yeast, 30 g oil, 1 tsp salt and 1 pinch sugar and knead /2 minutes. Transfer the dough and let it rise, covered, in a warm place. During this time, rinse the mixing bowl and continue with the recipe.
4. Add the brown sugar and chilli to the mixing bowl and pulse for 5 sec / speed 10.
5. Add 20 g oil and onions, place splash guard on mixing bowl lid and fryfunction. During this time, cut the aubergine into 12 slices and place in the Varoma container, making sure that there are still enough steam slots left.
6. Add 1 tsp salt and vinegar to the mixing bowl, place the Varoma on top and cook for 10 mins/flavour/counterclock/level 0.5.
7. Preheat the oven to 180ºC. 
8. Line 2 baking trays with baking paper.
9. Divide the yeast dough into 12 pieces and shape into circles (Ø 6-7 cm) on a lightly floured work surface. Place the circles on the prepared baking trays, place a slice of aubergine and goat's cheese on each circle, spread 1 tbsp of caramelised onions on each and sprinkle with crumbled cheese.
Bake the aubergine and cheese tartlets one after the other for 15-20 minutes (180ºC) and serve hot or cold.
source: Auberginen-Käse-Törtchen mit karamellisierten Zwiebeln - Cookidoo® – das offizielle Thermomix®-Rezept-Portal