What does your breakfast look like? Sneak peek on ours 😋😉 With Thermomix, create your own Granola for a healthy start every morning! It is super easy, healthy & cost-effective 💶 You can enjoy it with a yogurt, spread it on your fruits or simply with your favorite milk 🥛...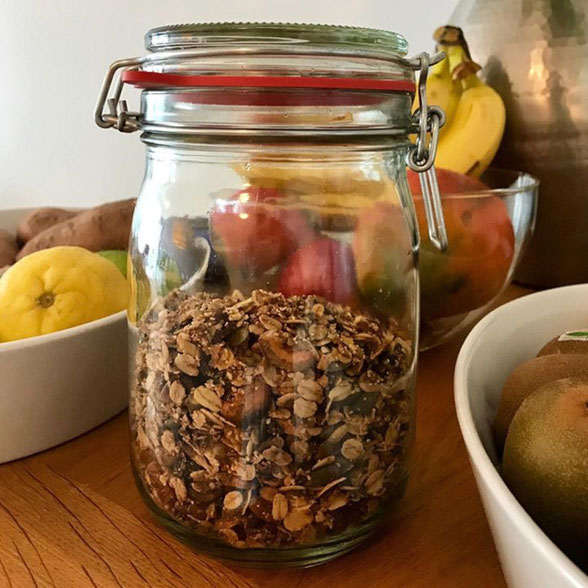 Ingredients
100 g banana chips

50 g rice wafers, halved

200 g nuts, whole, mixed (e.g. hazelnuts, almonds, walnuts, peanuts)

80 g buckwheat flakes

50 g amaranth, puffed (see tip)

50 g pumpkin seeds

50 g sunflower seeds

25 g linseed

25 g sesame seeds

150 g maple syrup

40 g sunflower oil

1 teaspoon of cinnamon (optional)

1 pinch of salt

 
PREPARATION
1. Preheat oven to 160°C. Cover a baking tray with baking paper.
2. Put banana chips and rice waffles into the mixing bowl, chop coarsely for 3 sec/level 5 and pour into a large bowl.
3. Put the nuts into the mixing bowl, chop for 3 sec/level 5 and pour into the large bowl.
4. Place the bowl with the chopped ingredients on the mixing bowl lid. Weigh the buckwheat flakes, amaranth, pumpkin 5. seeds, sunflower seeds, linseed and sesame seeds, mix and set aside.
5. Add maple syrup, oil, cinnamon and salt to the mixing bowl, heat for 2 min./100°C/level 2, add to the bowl and mix well with a spatula. Spread the moist granola mixture evenly on the prepared baking tray and bake for 25-30 minutes (160°C) in the lower third of the oven, mixing well every 5-10 minutes, e.g. with a wooden spoon, so that the granola becomes evenly browned, but not too dark.
6. Remove the granola from the oven and let it cool completely on the baking tray. Serve the granola with yoghurt and fruit or keep it in a storage jar.