Did you know that? Cavalo Nero, like kale, is a good source of lutein, vitamins K, A and C and an important source of B vitamins. It is also a source of fibre and calcium and contains manganese, copper, iron and many other elements.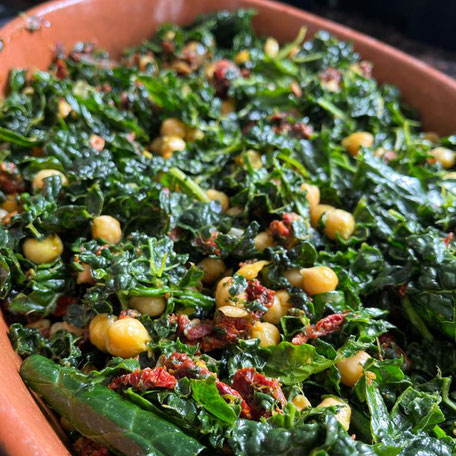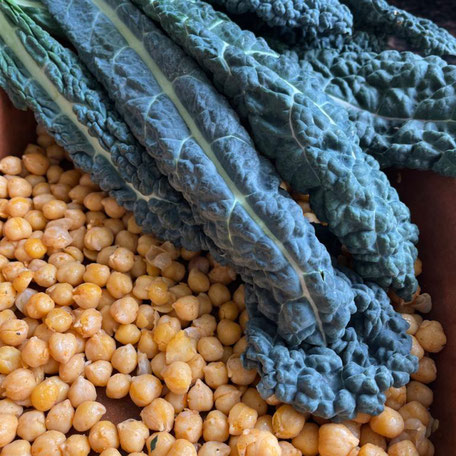 Ingredients
400 g cooked chickpeas, rinsed (drained weight)
½ tsp ground cumin 
1 tsp smoked paprika 
½ tsp fine sea salt 
½ tsp ground black pepper 
2 ½ Tbsp olive oil 
200 g cavolo nero, stalks removed, cut in pieces (10 cm)
2 garlic clove 
80 g sun-dried tomatoes 
20 g lemon juice 
20 g red wine vinegar 
10 g fresh coriander, leaves only
10 g fresh mint, leaves only
4 spring onions, cut in pieces (2 cm)
½ tsp chilli sauce 
PREPARATION
1. Preheat oven to 170°C. Line a large baking tray with paper towels then place chickpeas on tray. Shake tray so that chickpeas drain on paper towels.
2. Place cumin, paprika, salt, pepper and 1½ Tbsp oil in a small bowl. Leaving chickpeas on tray, remove paper towels then drizzle oil mixture over chickpeas. Toss until completely covered, then roast in oven for 20 minutes (170°C). Remove from oven and set aside to cool.
3. Place cavolo nero and 1 Tbsp oil in mixing bowl then with aid of spatula chop 3 sec/speed 5. Transfer to a serving bowl.
4. Place garlic in mixing bowl then chop 3 sec/speed 7.
5. Add sun-dried tomatoes, lemon juice, vinegar, coriander, mint, spring onions and chilli sauce, then chop 2 sec/speed 5. Transfer to serving bowl.
6. When ready to serve, add cooled, roasted chickpeas to serving bowl then stir to combine.