Cod with sobrasada with honey and green rice.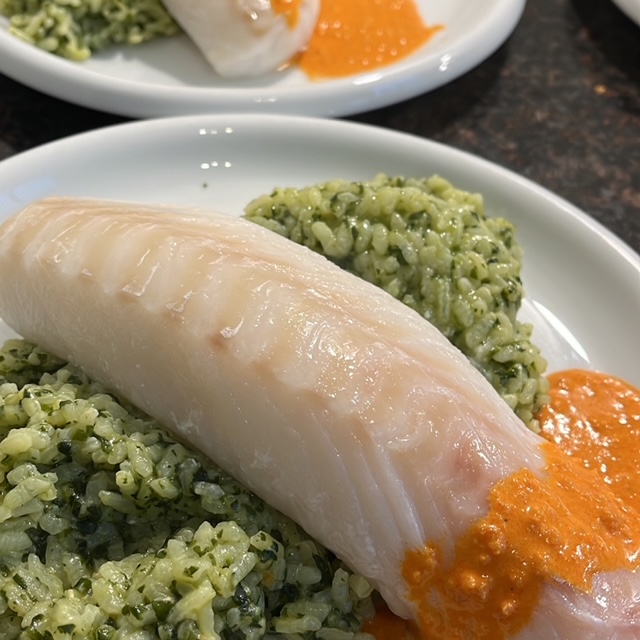 Ingredients
1 clove of garlic

100 g onion

50 g olive oil

4 loins of desalted cod with skin (150-180 g each)

100 g fresh spinach leaves

600 g water

1 cube poultry stock cube

1 teaspoon salt

200 g round grain rice

100 g Iberian sobrasada (in chunks)

40 g honey

50 g cream
PREPARATION
1- Put the garlic, onion and oil in the mixing bowl, chop 2 sec/speed 5. With the spatula, lower the vegetables to the bottom of the glass and fry 5 min/120°C/ spoon speed . Meanwhile, wrap each cod loin in cling film and set aside.
2. Add the spinach, program 2 min/100°C/ spoon speed and puree 10 sec/speed 5. With the spatula, lower the ingredients to the bottom of the glass.
3. Add the water, rice, salt and poultry stock cube. Place the cod fillets in the Varoma dish. Cover, place the Varoma in its position and program 15 min/Varoma/counterclookwise rotoation/spoon speed. Remove the Varoma and set aside.
4. Pour the rice into a bowl, spread it out with the spatula and place the cod loins on top of the rice. Keep warm.
5. Put the sobrasada and honey in the mixing bowl and program 3 min/80°C/spoon speed.
6. Add the cream and program 1 min/80°C/speed 1.
7. Drizzle the cod with the sobrasada cream and serve.
source: Bacalao con sobrasada a la miel y arroz verde - Cookidoo® – das offizielle Thermomix®-Rezept-Portal